A-Boards and Sandwich Boards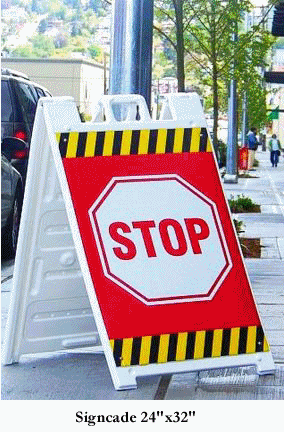 Also called Sandwich Boards, A-Frames and Sidewalk signs, these small portable signs are a must-have for small businesses. From barbershops to quaint cafes, these signs pull in customers from the street or sidewalk. Use them in addition to a building sign for maximum exposure.
Need special-event or temporary signs that can be pulled out easily from storage and put to use? Need to direct traffic to your event or parking area? A-boards will get the job done. From simple text to full-color digitally printed images, we can handle any job.
Ask about discounts for quantity A-boards, our customer service staff would love to hear from you.
A-boards are available in the following standard sizes:
Available in Wood.
- 24"x 24"
- 24"x 32"
- 24"x 36" (our most popular size)
- 32"x 36"
- 32"x 48"
- 36"x 48"
- custom sizes are available
Metal:
- 24"x 36" Only.
You also have the option to have one or both sides display your lettering, graphics and/or logo.
Like other signs, the only limit is your imagination. We also offer custom sizes, shapes, and features such as slider tracks, dry-erase (interior only) and acrylic holders and magnetic plaques for changeable messages.