Sandblasted Signs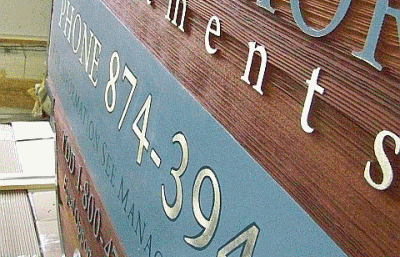 Sandblasted signs have stood the test of time and continue to generate second glances from customers. They evoke images of horse-drawn carriages, gas-burning street lamps and old-style craftsmanship. Displaying a sandblasted sign in front of your business indicates to cutomers that you offer creative options, quality products and good, old-fashioned customer service. If any of these are true of your business, then a sandblasted sign is right for you.
For added glamour, you can also add gold to your sandblasted sign. We achieve a gold gilded look by applying SignGold or real gold leaf to your sign.
Don't forget: We're a full-service company and would be happy to install your sandblasted sign for you. We also offer graphic design services to help your sign dreams become reality.